Clear Flex™ Serie
Alleen B2B!
Uitsluitend voor professioneel gebruik!
U kunt deze produkten bestellen via onze B2B site

www.FormX.biz

- Engelstalig
- KvK nummer vereist


Clear Flex™ 50 EU en Clear Flex™ 95 EU zijn waterwitte, heldere, vloeibare rubbersamenstellingen van urethaan, ontworpen voor toepassingen die absolute helderheid en weerstand tegen zonlicht vereisen. Lage viscositeit zorgt voor gemakkelijk mengen en gieten. Clear Flex™ 50 EU en 95 EU harden uit bij kamertemperatuur met verwaarloosbare krimp. Uitgeharde gietstukken zijn helder, flexibel en UV-bestendig. Levendige kleuren en kleureffecten worden bereikt door pigmenten toe te voegen. Toepassingen zijn onder meer het maken van heldere mallen, modelreproducties, decoratieve gietstukken, speciale effecten, prototype-onderdelen

LET OP: NIET VOOR THUISGEBRUIK. DEZE PRODUCTEN ZIJN UITSLUITEND VOOR INDUSTRIEEL GEBRUIK. Bij voldoende plaatselijke afzuiging is ademhalingsbescherming normaal gesproken niet vereist bij het gebruik van deze producten. Als uit risicobeoordeling blijkt dat luchtzuiverende ademhalingstoestellen geschikt zijn, volg dan de OSHA-regelgeving voor ademhalingstoestellen en de Europese normen EN 141, 143 en 371. Beschermende kleding (handschoenen en lange mouwen) is vereist om het risico op huidirritatie te minimaliseren. Als de ademhaling wordt belemmerd of huiduitslag ontstaat, stop dan onmiddellijk met het gebruik van dit product en roep medische hulp in. Lees SDS voor gebruik.

Deze producten zijn nieuwe EU-versies, speciaal samengesteld om te voldoen aan de Europese regelgeving.

Technisch Bulletin Clear Flex series
Clear Flex 30 Veiligheidsinformatie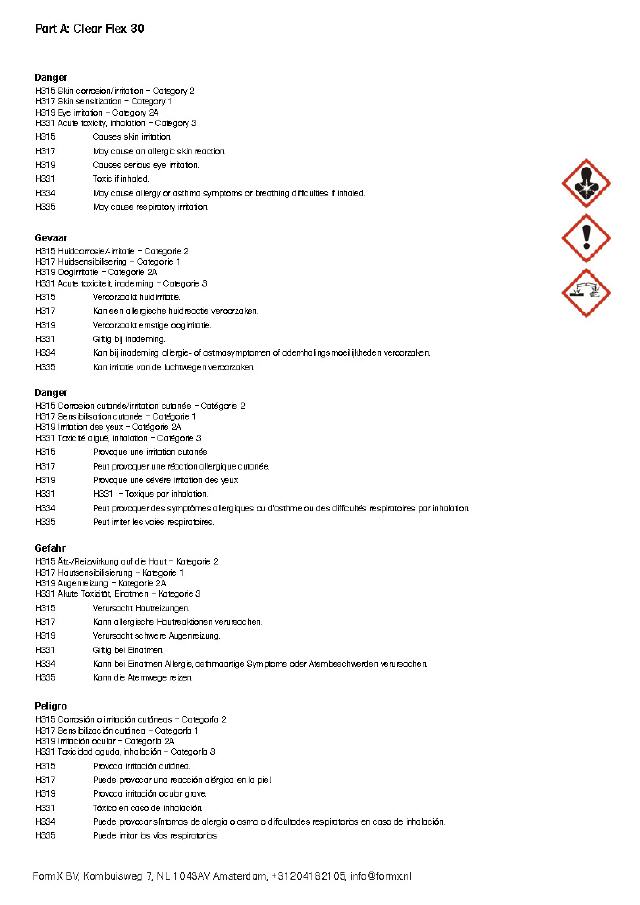 - Lees het veiligheidsinformatie label. Klik op de afbeelding.

- Read the safety information label. Click on the image

- Lea la etiqueta de información de seguridad. Haga clic en la imagen

- Lisez les informations de sécurité cliquez sur l'image

- Lesen Sie das Sicherheitsinformationsetikett. Klicken Sie auf das Bild.
Mengverhouding op gewicht: 100A : 94B
Mengverhouding op volume: 1A : 1B
Shore Hardheid: 30A

Mengverhouding op gewicht: 100A : 94B
Mengverhouding op volume: 1A : 2B
Shore Hardheid: 50A