Seallers
Commerciële prijzen beschikbaar!
Commerciële discounts beschikbaar!

Geregistreerde ondernemingen kunnen bestellen via onze B2B-site

www.FormX.biz

WAAROM SEALERS GEBRUIKEN?
Dit wordt met name gebruikt wanneer het afdichtende effect onzichtbaar moet zijn (dus geen coating) maar waar een goede waterbestendigheid en vlekbestendigheid vereist is. Het is bijzonder geschikt voor onze Flex Metal-systemen, biedt een uitstekende bescherming zonder het metalen oppervlak aan te tasten. Het is ook compatibel met al onze cementcomposieten AC730, AC830 en AC930 en biedt een hoge weerstand tegen alle effecten van externe verwering. Een sealer helpt de ondergrond te beschermen tegen vuil en (dagelijks) gebruik. Het maakt je gietstuk niet waterdicht, maar meer waterbestendig

Een sealer maakt het gemakkelijker om uw afgewerkte gietstukken schoon te maken!

hier is onze selectie van sealer voor uw Jesmonite-creatie:

- Flexiguard Sealer is gebaseerd op nanotechnologie en is een vlekbestendige, onzichtbare sealer die een helder, UV-stabiel en extreem duurzaam oppervlak creëert voor alle Jesmonite-composieten behalve AC100.

- Penetrating Sealer Dit wordt specifiek gebruikt wanneer het afdichtende effect onzichtbaar moet zijn (d.w.z. geen coating) maar waar een goede water- en vlekbestendigheid vereist is. Doordringende sealer is niet compatibel met AC100

- Hebau Sealers met 2 afwerkingsopties Mat en Satijn

Penetrating sealer Veiligheidsinformatie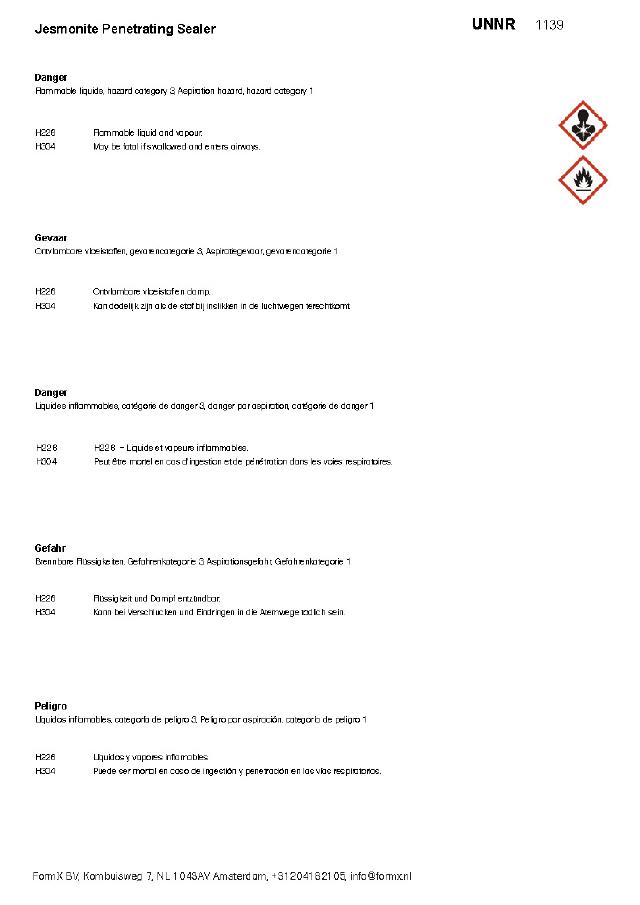 - Lees het veiligheidsinformatie label. Klik op de afbeelding.

- Read the safety information label. Click on the image

- Lisez les informations de sécurité cliquez sur l'image

- Lea la etiqueta de información de seguridad. Haga clic en la imagen

- Lesen Sie das Sicherheitsinformationsetikett. Klicken Sie auf das Bild.