FormPaint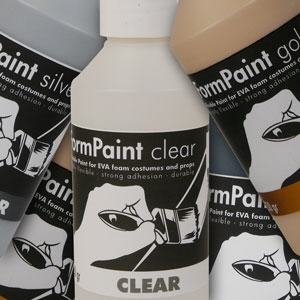 FormPaint is ontworpen voor zowel kostuums als propmakers.
Geen gevaarlijke dampen of bedwelmende geuren.

Zeer veelzijdig;
Het is op waterbasis en kan worden verdund met water.
Acrylverf kan worden toegevoegd om te perfectie welke teinte te krijgen die je nodig hebt.
Het kan worden aangebracht met een kwast of gespoten met een airbrush / verfpistool.

FormPaint is:
- Niet giftig.
- Latex vrij
- Barst niet
- Sterke binding
- Zeer flexibel
- Duurzaam
- Geen vermenging van componenten

Tests hebben uitgewezen dat het hecht aan:
- EVA-schuim
- Plastazote
- Kussenschuim
- Latex
- Kleding / stof
- Polyurethaan zacht schuim

FormPaint wordt gebruikt om schuimen, latex en stof te coaten, het biedt dan een afgewerkte flexibele, duurzame rubberen coating. Er is geen latex nodig, er is geen primer nodig. Acrylverf kan in kleine hoeveelheden worden toegevoegd om de tinten aan te passen.

Op waterbasis, zodat kwasten en sponzen schoon kunnen worden gewassen met warm zeepsop.